| | |
| --- | --- |
| Now, we all think our dogs have a pretty cushy lifestyle already, but when you visit a site developed by Mike Strong you'll see that he REALLY knows how to give a dog a grand style to live in. | "When I decided to build a dog house, I went to my local hardware store to buy doghouse plans, they did not sell them. Neither did the big national building supply chain." |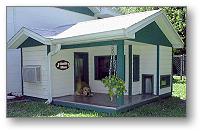 He has assembled some really nice dog houses that others have made for their dogs as well as developed a site that goes into detail on how to build a nice dog house. Of course, we all know that you can build it, but whether they use it or not, that's a different story. You can identify with Steve and his project. It cost too much, and the dog didn't use it, but he wouldn't have changed a thing since he spent quality time with his son.

Some other sources for dog house designs and "how-tos" are Lowes instructions for dog house assembly, including pictures and a complete tools and materials list.Heinz, Pet Unleashed also has a step by step setup for building our dog's dream home.

Do you have a "dream structure"you've made for your dorg? Do you have something you've built for your dog's comfort? Or, maybe another specifically designed structure to help your Dachshund such as a ramp to get on the bed? If so, send a picture and we'll show it. If you'd like to share your plans, feel free to send them also.