"Tank"
Dual Champion (Conformation Champion and Field Champion)
E Dachs Armor of L And C UDX, ME, VC, CG, CGC (TDI retired & OTCh Pointed)



Obedience the Root of the Versatile Dachshund
A Short Treatise on Tank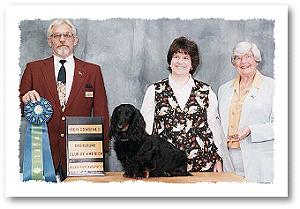 By the time that a little black and tan standard longhair was whelped on May 29, 1989, I already knew that obedience was the foundation of all things to do with dogs. Perhaps not formal obedience, but no event for the American Kennel Club (or perhaps any other dog registry's events) can be performed without some control over your dog. Hence with the birth of Tank, we began a 10 1/2 year odyssey into obedience to develop one of the most versatile dachshunds living today!
This is the story of Tank -- Dual Champion (Conformation Champion and Field Champion) E Dachs Armor of L And C UDX, ME, VC, CG, CGC (TDI retired & OTCh Pointed). Tank finished his Championship fairly easily due to the time we spent teaching him the basics of Stand Stay, and on-lead control. He was very receptive to learning new things, but like most dachshunds was easily bored with repetition. So being creative with treats, toys, almost everything in the book to keep him "up" was used including the time a dragon fly landed in the ring on the mat just ahead of us in line where we were stacking the dogs. He used to love chasing them in the backyard in Metairie, Louisiana -- we would always say "Get the Skeeter" in the south we call dragon flies - mosquito hawks. Anyway it made for a pretty picture with him totally focused on the bug in front of us! I guess this could translate into some kind of attention training as well! However he did have a short specials career earning 17 Best of Variety and 3 Best of Opposite in 20 shows one year or so. Then we actually began formal training for the obedience titles.
Novice went smoothly Tank finished his CD in three straight trials. Open was a different story, we took several trials and just less than a couple of years to earn the CDX. I guess that more can be said of our learning experience during Open and even more so for Utility and even greater for the UDX. Once you have reached these heights with your dog, you begin to see obedience training and exhibiting in a new light. I think that the higher levels of obedience force the trainer into a higher awareness of the bond between handler and dog than at the novice level. It also forces handlers to take notice of the "B" classes, where you are in competition at all-breed shows with dogs that have earned OTCh's long before you ever completed your UD! Developing an eye for what goes on inside and outside of the obedience ring gave me a greater appreciation for what can be accomplished with our breed even at the novice level. In the months to come I hope to express some of these realizations.
While still working on his obedience career, we ventured into earthdog tests and field trials. Tank showed great promise in the earthdog department, earning his SE and his ME in just over a year. Of course obedience helped greatly with the Recall part of the Senior Earthdog test, we never experienced any problems with him coming out of the tunnel on command. In the Master Earthdog tests, I used the Go Out command to send Tank off in the right direction for the long stroll to the tunnels. In Senior, I was surprised at an effortless Recall because he had such a passion for Barking at the rats. He would surprise judges by his forcefulness in barking. They used to have to stand on the exit door area to keep him from knocking it open! And you could hear him across the field -- arf, arf, arf! This is his all time favorite event and occasionally to run as a bye dog when needed!
In between earthdog and obedience, we found our way to a few field trials thanks to Tina Knoll. Without her I would have never had the nerve to venture out on my own and drive the distances needed to get to the trials. None were being held in the south at the time. Again obedience was a great help in the field however it was not until we started tracking that he started to improve and become a little more consistent. One might suggest that tracking is also a form of obedience. It certainly takes some obedience on the owner's part to train for any event! Tank ended up finishing his Field Championship and therefore the Dual Championship by taking three First Placements and one Absolute at field trials. I have to admit I thought the day would never come, but I didn't give up. Sometimes with obedience or any other conviction you may have -- it is best to never give up!
Mostly at the beginning of each year I would decide what goals I wanted to set for myself and my dogs. Most of that focus was on Tank, and reaching the next level. If we didn't reach a goal, we needed to figure out what it was going to take. Most of the time it was time and discipline to train. The two most gratifying titles we earned were the Field Championship (Nov 99) and the Utility Dog Excellent (Sept 98). For both of these titles, I learned much, traveled far, and met many knowledgeable people took the time to nurture me to the final success that I have reached with Tank. I am thankful for those individuals.
Tank also ventured into Flyball, Scent Hurdles, Agility and Schutzhund "B" training, but we never were able to get beyond the focus of American Kennel Club titles to follow through with these other areas. While the first three are beyond his capabilities at his age now, the "B" may still be obtainable, but not necessarily a goal.
Tank is also a survivor. He was stricken with bloat and torsion last February '99, due to an experienced veterinarian and his staff, Tank survived the surgery and ordeal. The thought of losing him was almost too much to bear. Of course I told him, he didn't have permission to leave me just yet, because he still had more to do! He amazed the staff and others with his bounding recovery. This also took it's toll on his obedience showing, as we had to be very careful not to let him do any damage to the repairs to the stomach. His recovery was very slow, but he ended the year with a bang just as he had started off. The bloat occurred only two days after his Absolute win at the field trial. His finishing the FC later in November with his 3rd First was truly exciting.
This brings us to where we are today -- Tank is currently training for Tracking. Hopefully he will be ready sometime this year (2000) to certify! Again, obedience has helped jump start us for tracking and Tank has a keen sense of scent discrimination from Utility training.
We joyfully train in anticipation that we will be granted one more wish. We relish every minute together even the ones where we are just napping on the sofa together, because I know someday all of this will be a wonderful memory. Tank has brought such joy to our lives and he has shared his charms with many across America, and around the world by internet, not only through showing but through his work as a Therapy Dog. He truly is the Gangster of Love!
Tanker Wanker Woo -- My Special Dog!
As always,
Sandi Myers
Myedach