Traveling With Your Pet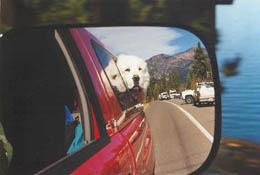 When traveling with your pet, there are a few things that you should make sure of.
Make sure your pet has a secure collar and ID tag on it.
Make a temporary one out of cardboard putting your destination address and phone number on there with a contact name if possible. Cover the temporary tag with scotch tape for strength and watertightness. Punch a hole in it with a hole punch and put it on your dog's collar.
If your pet is on medication and you're going away from home for any length of time, make sure that you have a sufficient supply of medication, special foods, topical ointments, etc. There is nothing worse than finding you need a refill at an inopportune time.
Make sure you rabies vaccine is current.
Treat your dog for fleas if you have any. Remember curtosey to others when visiting family or staying in motels.
If you know where you are going, try and find the nearest vet in case of an emergency.
Pack a supply of food, water your dog is used to drinking, and some favorite toys along with a special bed if they have one.
Have a place in the car where your pet can be comfortable for your journey. Do not let your pet ride on your lap while you are driving. It isn't safe for you, your pet or other drivers.
Have a good time.
Related Links & Dog Recreation

Here are some good links to find more information.
Pets Welcome Hotel Listings - http://www.petswelcome.com/
Jack's Travel Proffessional International Total accomodations for dog exhibitors to the shows. A division of Jack Onofrio. It offers airline tickets and hotel information.
Dog Friendly Travel Guide for Dog Owners
Free Trip Planner - tell it where you're coming from and where you're going and let it map a plan, including hotels along the way. Keeps track of the miles and at each point how many miles are left to your trip. It will even email you the directions.
Dog Friendly Beaches and Places in Florida
IPATA - Independent Pet and Animal Transportation Association Int. - Members who help you ship and relocate your pets.